I've had several people ask me how I achieved this wall in my bedroom. So I going to teach you how I did it!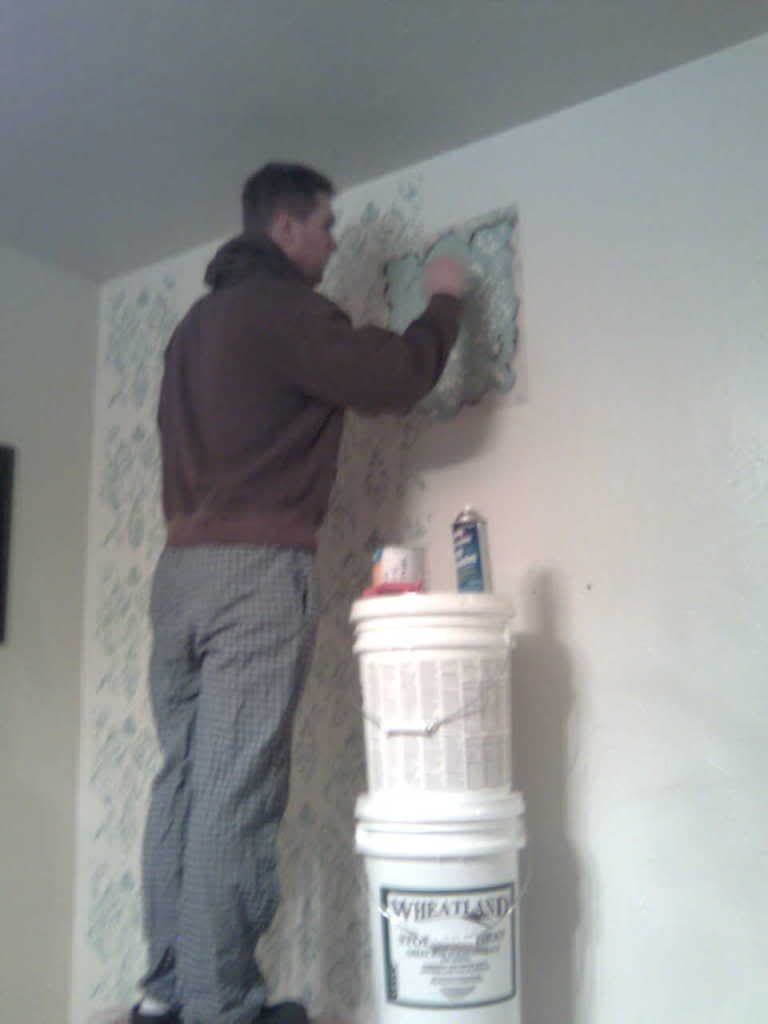 First off, I stenciled the wall using white and teal. I used
general finishes
oil based stain in spiced walnut for the glaze. Yes, that is my poor husband helping me stencil after I told him he didn't have to. That was until my hand was cramping and I just couldn't do another stencil.
This is where it gets tricky, and I have no photos of this part, sorry in advance. You get an old cotton t-shirt, dip it in the stain and move in circular movements. It will go on dark really quickly. You might just have a mini heart attack thinking that you just ruined your beautiful stenciled wall you spent all that time on. Just keep working it in but work quickly. If you have too much stain and it starts to get too dark, get some lacquer thinner just a teeny tiny amount and rub it in. You may want to put on gloves and a safety mask for this part and open all your windows. Between the oil based stain and the lacquer thinner it stinks!
It's also nice to have a clean rag handy to clean up any excess. You just keep doing this till the whole wall is done! It's very time consuming and hurts your hands like crazy! You might be muttering some not so nice words by the end or have to drag your poor husband in to help finish the job like I did.
You can always sand afterwords as well. I didn't, but I think it could add a cool effect. Now go make yourself a vintage stenciled wall.
Parties I'm linking to this week: